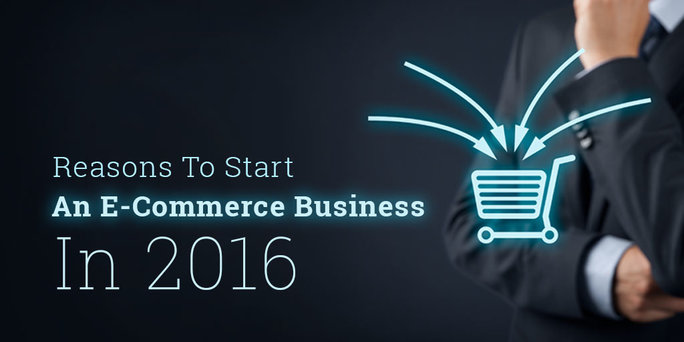 Are you bored of doing work for others? Thinking of starting something new? Why not start your own business then? If you are seriously thinking of starting your own business, then e-commerce is a good trade with less investment, all you need is a strong work ethics and a desire to succeed.
Here are some good reasons to as why you should start an E-commerce Business in 2016:
1. E-commerce Market Continues to Grow Fast:
With the immense use of e-commerce websites by the users, global e-commerce sales are expected to reach approximately $2.5 trillion by the end of 2018. China is already growing in this sector, and is likely to become the world's second largest e-commerce market.
It is high time to start and compete with the e-commerce market players. As there are many opportunities in the world of online sales.

2. E-commerce Business is Easy to Begin With:
Starting an e-commerce business doesn't mean that you have to be a tech-savvy person. The platforms like Shopify and few others have made your work easy and simple. They tend to offer pre-made design templates, easy check outs, multiple payment gateways and free hosting to the people who are willing to start their e-commerce business, who are the beginners.
All you need to do is a systematic planning to sell a particular product that you feel would sell and passionate about it. A well-thought out strategy would make it easy to build up a good relationship with your vendors.
3. Mobile Commerce Store is expanding:
90% online shopping occurs through mobile. Mobile commerce is rapidly booming. It has become easy for the customers to buy online through mobile app. Today, it is vital to have a mobile friendly e-commerce website to increase more traffic for your business.
It is a best fit business for those who do not want to depend on a particular location to sell the products globally.
Searching for the best e-commerce website design company to start your business with an impressive and professional website design? Aarna Systems is an e-commerce website development company who believes in providing the best user experience that result in a consistent business growth.