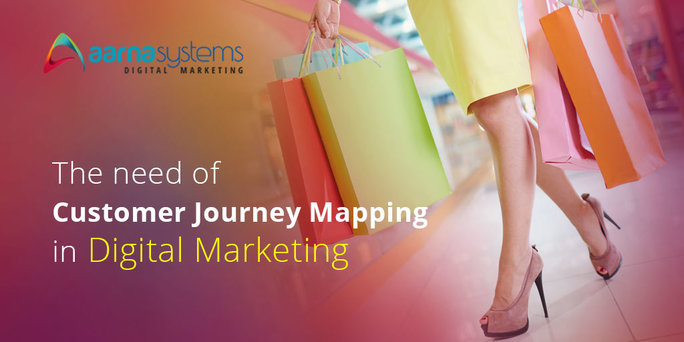 Customer journey mapping is the most essential and fundamental component for any organization in order to build a strong digital marketing strategy. It helps to increase the usability. It enables the brands to understand the potential customers' mind-set and pain areas, and whether the business goals are affiliated to the goals of the consumers or not.
Today, consumers are across multi-channels to interact with the companies. For instance; Facebook, LinkedIn, Twitter, Google+, Pinterest and following many other digital touch points on their customer journey to purchase any products or services. Thus, it has become vital for the decision makers to identify obstacles that are impeding best customer experiences with the help of customer journey mapping to maximize the business sales through digital marketing strategy.
Many reputed companies study and keenly observe every activity while analysing the customer journey mapping, and implement the optimization strategy. This type of strategy helps every company to focus on improving the customer experience and obliterate those pain points that is causing impinge on the customer journey.
With the continuous increase in demand for social media platforms and other digital marketing channels, the customer service experience reach new heights, where the customers directly interact with the companies on various digital marketing channels – For example; Facebook, LinkedIn, Pinterest, Twitter and YouTube. This requires a thorough understanding of the user persona.
For example:
Who are your potential customers?
What are their interests?
What customer needs from your website?
On which social platforms they are active?
From which devices they land on your website?
Let's say, if any e-commerce website wants to know about the taste of a particular group (segment) as of what kind of clothes they love to wear – The customer journey map helps business to categorize and sale the apparels after identifying the customers' current digital behaviours, analysing customers' historical transactions, knowing the demographic, as well as studying the psychographic data of the customers. This makes it easy for the business to implement the marketing strategy, provide products or services, and informational content by putting yourself in their (consumers) shoes.
Your customer journey map is about understanding every step they make before purchasing items online. It enables every business to provide the best online experience knowing the key customer touch points, which helps to make an effective online marketing strategy to convert maximum visitors into customers. Does your website have a lack of customer interaction? Want to fill your sales pipeline with the relevant customers?
Aarna systems is a digital marketing company which provides services like SEO, SEM, SMO and Website Design. It provides a complete digital marketing package for every industry. It understands the importance of every business and refines the digital marketing strategy as per the circumstances that occur on every stage. Aarna Systems – The digital marketing company in Pune that delivers successful and well-defined strategy to increase conversions.
Get a FREE expert consultation!!