Magento is very well known open source platform for eCommerce. Magento has all strong eCommerce features that cannot beat any other open source eCommerce platform.
One of the major points to focus on eCommerce business is pricing of a product. Price management is a crucial part in marketing strategy. Here we will take a look around product price management in magento.
Magento provides three price management options, as below
Go to, Admin area -> Catalog -> Manage Products.
1) Price: (Normal price)
Normal price indicate the price, at which you want to sell the product. This field is required field.

2) Tier price:
Tier prices are useful to set discounts based on the quantity of products purchased to all customers or extend the discount to only selected group of customers. The discount will be displayed on both category listing and product detail pages. It can be applied to a specific store view or customer group.
For adding tier price go to,
Admin area -> Catalog-> Manage Products -> Prices
– Click on Add Tier, you will find a below screen.
– Select Customer Group – to whom the tier prices will be displayed,if applicable
– Enter the number of Quantity in Qtyfield;it indicates the number of items that must be ordered to receive the discount.
– Enter the discount price you want for your product in Price field.
– Click on Save.
Just a few simple steps to set the Tier price. Isn't it?

3) Special price.
Special price is used to set promotional campaigns – discounts which are valid only within a specific defined period.The starting and ending period you can define in Special price From Date and Special price To Date.
For adding special price go to,
Admin area -> Catalog-> Manage Products -> Prices
– Enter special price value in Special Price field.
– Select affected starting date from Special price From Date
– Select affected ending date from Special price To Date
– Click on Save.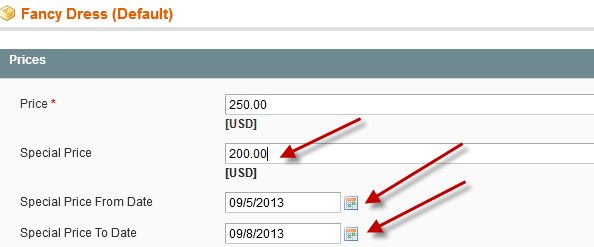 To speak with our Magento experts, contact us on [email protected] or view  work about website design company in pune click here