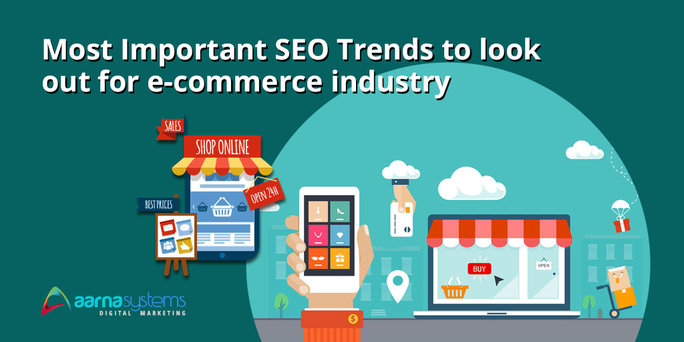 Wondering why SEO is important for ecommerce websites?
SEO not only secures your website traffic, but also optimize specific product pages to attract maximum traffic to boost your most profitable pages. But SEO always thrive to make user experience even better than before. The constant change in technology and tools like ecommerce webmaster is a must to stay ahead in the competition.
Lookout for a few highlighted important SEO trends which are necessary to grow in the e-commerce world:
Advanced SEO technologies provide better results:
SEO technologies are developing at a rapid rate. With the help of widgets, tool webmasters and third party apps, you can easily optimize your e-commerce website and improve results with minimal manual work. There are some innovative solutions provided in the template for web design which enables webmasters to help with the proper on-site optimization of the websites automatically.
"Advanced technologies help every brand to rank your e-commerce website easily on the search engines and get over competition."
Though, it is true that fully automated technology for an on-site optimization still does not exist. The customizations on certain things are still required like navigations, tags, rich, snippets and so on, to see the best possible results.
Long-form content for better user experience:
Previously, every e-commerce site preferred to use short-form content on product pages like a title, brief introduction of the products, with relevant photos. But today, as per users' demand and search engines favouritism, almost every niche has switched to long-form content to provide users with the best experience in a particular segment.
"Long-form content provides more conversational phrases which increase more relevant search queries, also differentiates brand from other competitors."
Thus, describing products and offering insights on your product pages in detail will attract more relevant customers. Funnel more quality leads by emphasizing on providing informational content.
Social signals generate more visibility:
Social media is the most popular platform in today's era. According to a study,
52% of e-commerce companies are seeing profitable ROI with the help of social media marketing.
65% of entrepreneurs believe that social media marketing will become more popular over the time.
96% of e-commerce companies are planning to increase their budget for social media marketing in coming years.
"The best way to generate more visibility is to encourage more social sharing among visitors throughout buying process from an e-commerce website."
Social media marketing enables e-commerce website to share products on social media platforms. It creates social opportunities in order to get audiences engaged with your e-commerce website. Social sharing ultimately helps brands to improve visibility across search engine and on social media channels.
Local results are leading at all corners:
Local SEO always come with new technologies which help millions by improving local search ranking on search engines. E-commerce generally operates on a national level to target large number of audiences to make a huge profit. Therefore, maximum e-commerce companies don't think of implementing local SEO strategy.
"Local results will make your brand more relevant and visible for the potential customers you are targeting through an e-commerce website."
Local strategy will help e-commerce companies to target niche market more effectively. And thus, it differentiates your brand popularity with other competitors by offering more genuine results to your target audience. However, exceeding customers' expectations is the ultimate marketing goal for every e-commerce industry.
Are you planning to implement SEO strategy for your e-commerce website? Seeking what should be the proper SEO process to get your e-commerce website at the top of the search engines?
Get FREE experts consultation!!
We, a digital marketing company offer the best SEO service for an e-commerce business website. Our experts are well-versed in SEO and always implement an effective marketing strategy as per the latest SEO trends in an e-commerce industry. Get high quality leads for more profitable business.