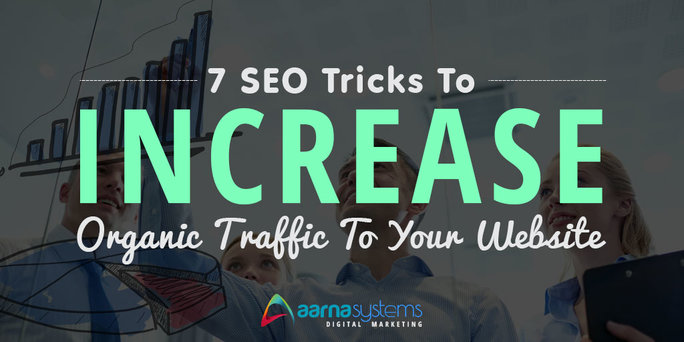 Everybody wants their business or website to rank at the top of the search engine, especially at Google, don't you? Traditional Marketing is fading away, and Digital Marketing is the future. There is a tough competition in the market for the same industry to come up as a leader. Search Engine Optimization (SEO) is a powerful weapon in digital marketing platform to obtain organic visibility before your target audience. SEO is a proven methodology to channelize traffic towards your website without monetary investment.
This article will help you with some of the most important SEO tips to increase organic traffic for your website:
1. Write unique quality content on a regular basis – Content is the King:
Sometimes it gets too tough to create unique quality content on a regular basis. But you should not break the chain. As it is said, "Content is the King", original content will lead to interact with your audience.
2. Use the appropriate keywords in your image caption:
There is an entire image section in the search engine results. Google gives equal importance to the images as well as the companies. Thus, it is very simple, that if you want the image to come up on top of the search engines, then you should use the right keywords in the image caption.
3. Use simple URLs that make sense:
The URLs should be meaningful and easy to understand for both the search engines and the users. The important keywords should be first, no capital letters, no numbers or characters. Optimize your URL in such a way that it makes your URL memorable to users, easy to type and search friendly.
4. Write different Meta description for different pages:
For every page you need to have different Meta descriptions, as search engines and users don't like duplicate content. The Meta description for every web page should be relevant and related to the topic, which can provide a better experience to the users.
5. Include internal linking to boost your website:
It is very important to have an internal linking strategy as every search engine crawl through links. The bots will scan each website. At the time of crawling, if search engine finds any information which is relevant and useful for the end user, it will boost your web page in the search engine result. Thus, your website will receive a good rank in the search engines.
6. Perform keywords research and create a database:
Proper Keyword research helps the search engines to find your website content for particular products and services. Build your keywords strategy; you can use free tools like Google Planner.
Identify the keywords that mostly drive the traffic. Build a list of keywords and review it quarterly. Keywords strategy for local, national and international businesses are different in the search engine world.
7. Encourage readers to share the content on social media:
Social media is one of the powerful channels where one can share, like, pin, and tweet on social media platforms, which impacts the search engine results. Create social media icons at the end of the content. Interact with the people and encourage them to share your content. Run a social media contest. Social signals can be a spark to boost your content on search engines, thus improve rankings.
Need to know as how your business can generate revenue with a creative SEO strategy?
Get a FREE expert consultation!!
Aarna Systems is one of the Best SEO Company in Pune. We serve a complete digital marketing package right from designing a website, search engine optimization, search engine marketing, and content marketing. We have served SEO service to almost every industry and delivered the best outcomes. Our team of experts is known for executing excellent, creative and unique SEO strategies for each and every industry.