Facebook Page for retail stores:
Today facebook is the largest Social networking website that people use in their daily routine. Stores prefer to have facebook page for the better marketing and branding for their products. It is easy to reach to potential customers using facebook.
Many businesses creates facebook page but do not utilize full potential of social media marketing. Creating a facebook page needs design creativity & strategic thinking. Facebook page cover photo is front face of your retail business. It is important to have brand colors on your facebook page. Facebook page must be complete in all aspects for online store promotion right from page cover photo to album & facebook posts.
Facebook cover image of facebook page
Facebook cover photo is very important part of your store facebook page. Include relative images into cover. Put your product images or add call to action into cover image. Looking at facebook cover image visitor must get idea of into what business you are.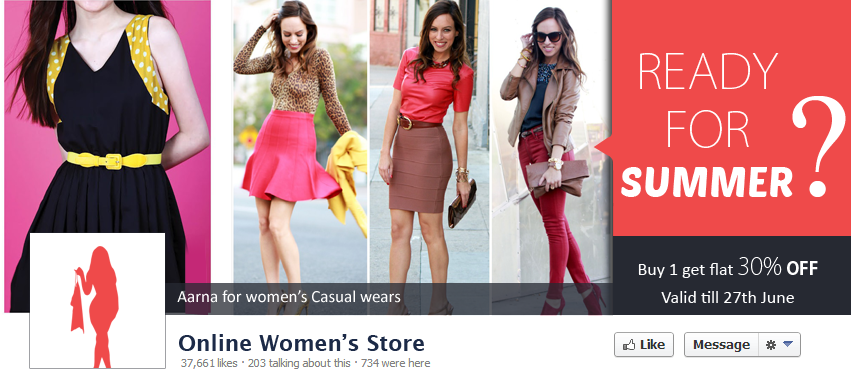 Checkout more facebook cover photo ideas.
Your store logo in cover image
Don't forget to include your store brand logo in your cover image. It is not mandatory to include but Logo will help to spread your branding across social network very quickly.
Facebook cover photo guidelines
Your cover photo must be at least 399pixels wide. To reduce load time of your page, you should upload a sRGB JPG file that is 851 pixels wide, 315 pixels tall and it should be less than 100 kilobytes.
The image that contains your logo or text content, you can use a PNG file to get higher quality result.
You can use guide for facebook cover photo sizes.
Use facebook post for product promotions
Use posts to promote online sales, feature products or new arrivals. Design promotional image & share on facebook as image to reach to social media.



Checkout more product promotional designs for facebook.
Use photo album as product gallery
Use facebook album to promote featured products & new arrivals. Create facebook album & upload photos of products. This will help to find facebook fans related products at one place. Fans will share products on social network if they like.
Create facebook offers
Create facebook offers & promote facebook page using facebook fangate. Facebook fangate is application where visitor need to like your facebook page in exchange of coupon.
Link other social media to facebook page
Use facebook tab to link other social media like you tube to share product reviews. Pinterest to share pin boards & google maps to share store location.
If I have missed something please let me know your online store promotion ideas using facebook.
Looking for help on designing & branding facebook page for online store? We are ready to assist you to build one. Check our ecommerce services & contact today for free ecommerce consultation. our Visit us web design company in pune