Successful execution of any business strategy depends on the how you begin. Same goes with search engine optimization also known as SEO. Whenever you define the objectives of a campaign, it is necessary to get the answer for the question 'Where to target?' This will help you to define your target audience and market share that you can achieve.
Before we jump directly to a conclusion, let us quickly understand about both the techniques.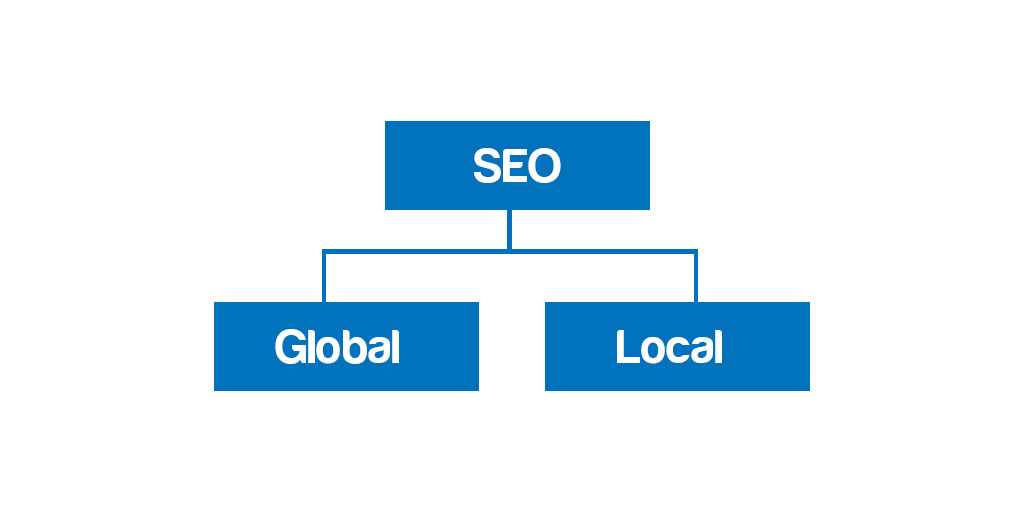 Local SEO Positioning:
As the name suggests, local SEO targets local geography. Businesses that are located in a specific city or region, Local SEO is recommended. For example, restaurants, malls, hospitals, service centers, medical stores, etc. can implement Local SEO. When a local business implements a local SEO campaign, there are high chances of website achieving good rankings on search engine results page for that particular area. This indirectly influences visitor's preference providing great exposure to local internet users who are searching something relevant to their business and boosts the website traffic. This ultimately increases the conversion rate of visitors into leads.
Global SEO Positioning:
If your business is appealing to a target audience globally, then you should go for Global SEO. When you are using global SEO techniques, you need to target generalized keywords, for example, best digital marketing company in India. For such search query, Global SEO strategies give you a chance to reach places and get recognized globally. However, this is not as easy as it seems as there is huge competition going on globally. Wider the targeted area, higher the competition. But if you succeed in getting the recognition, then wider the targeted area, greater the exposure.
Techniques to be applied between the two depends on your goals and targeted audience. It also depends on the nature of your business. For small businesses, local SEO is the best way to start with. Whereas, established businesses can go for global exposure with global SEO.
While choosing a digital marketing company in Pune to help with your website's promotion through SEO, make sure they are aware of which one will be best suitable for your business – local SEO or global SEO. Let the digital marketing company which you are approaching know your goals are and target audience you are aiming for. To sidestep any confusion, ask them the plan to elevate your business website in search engine results. This will help make sure you are both on the same page.
It is always recommended to have a concrete plan and strategy before implementing any SEO technique on your business website. Hope this will help you decide whether you should target local SEO or global SEO.
For all your queries and consultation related to SEO or digital marketing, we, Aarna Systems – a preferred digital marketing company in Pune, are more than happy to assist you.
Get in touch with us for a FREE 90 min consultation.