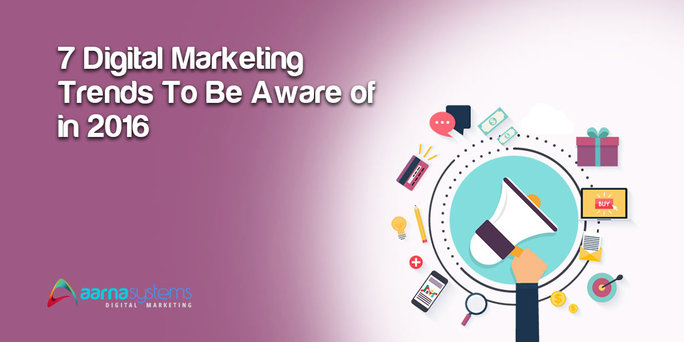 Today, the concept of marketing is no more the same. The old marketing strategies do not apply anymore. They have become obsolete and do not work at present times. At present, marketing ensures in-depth analysis of consumer behavior and attitudes.
The marketing activity performed on the internet is – Digital Marketing. The internet makes the job easier of an online marketer to promote products and services. Digital Marketing helps a marketer to understand the consumer behavior in a better way. This helps a marketer to create consumer focused digital marketing strategies.
Here are top 7 digital trends that every digital marketer should know in 2016.
1. Searching of products and e-commerce on Social media like Facebook:
Facebook will soon come up with their own search engine as they are researching on it. This will enable a stronger search capabilities within social media. Brands will get visibility with these search capabilities. People will search products on Facebook and buy them on the Facebook messenger app. Now, companies can interact with their customers or clients through the Facebook messenger app. Product search and buying can take place on one site without any hassle.
2. Snapchat for advertising products & services:
Most digital marketers have started using Snapchat for real-time marketing. It has the potential to attract more number of customers. Millions of people have accepted this social networking site. In Snapchat, a user can send photos, videos, add text to their images and send it to their families and friends.
Snapchat has become a profitable platform for the marketers. They can create teasers for new products or services. Users love to share the creative campaigns which may go viral within no time.
3. Connect People to Your Brand through Live Video Streaming:
Nowadays, it has become easier for the marketers engage people with the help of videos. Meerkat & Periscope are two apps which allow you to live stream videos from your mobile. You can also share it with your Twitter community. Video content like teasers, behind the scenes, and live Q & A, grabs people's attention. It gives them a beautiful visual experience.
4. Advertising through Instagram:
Instagram identified the need of the people and turned it into a profitable business. We are all addicted to content that provides visual stimulation. Most businesses have started using Instagram to attract visitors. This helps them in a way where people share their brand experience with the world. Instagram has recently started offering paid advertising opportunities through selected developer partners which are:
1. Ampush
2. Brand Networks
3. 4C
4. Kenshoo
5. Salesforce Marketing Cloud
6. Nanigans
7. SocialCode & Unified
Before, paid advertising opportunities were not available for everyone. But from 2016, Instagram has made accessible to all advertisers.
These days, marketers are applying creative digital marketing strategies to promote products. They are using multi-page ads or short video ads.
5. Pay Per Click Marketing:
Adwords has come up with Identity-Based Pay-Per-Click Marketing. It allows you to target people with specific ads based on their phone numbers and email addresses. This means that you can now direct ads or content to your target audience. And answer them catering to their specific needs and wants.
6. Let Consumers be your Brand Marketer:
People share the brand experience with their loved ones when they buy a product which they like. Use the customers' reviews to your advantage. And let your customers do your brand marketing. By using the digital platforms like YouTube, Instagram, Pinterest, Meerkat & Periscope.
7. Attracting people to your website with Content Remarketing:
Many a times people visit your website, but do not buy anything. This is where Content Remarketing comes in. Content Remarketing is the process of tagging visitors on your website. And retargeting them with content after they have left. This gives you an opportunity to interact with the people who are interested in your product. When people are on YouTube, checking emails or reading news, show them your content.
Hence, digital marketing has created huge opportunities for the businesses to grow. It is important to create an effective digital marketing strategy for your brand. If you are unable to do so, then hire the best digital marketing company.
Why hire Aarna Systems?
Aarna Systems is a digital marketing company, well-versed with digital marketing strategies. And provide services like SEO, SMO, website design, and paid marketing.  So what you are waiting for? Let's attract the attention of the consumers with the help of strategic Digital Marketing.